Rudolph Arthur Marcus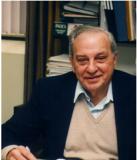 Rudolph Arthur Marcus
Prof. Rudolph Arthur Marcus, winner of Nobel Prize for Chemistry, 1992, is a famous professor at California Institute of Technology, Foreign Member of the Chinese Academy of Sciences and member of the National Academy of Sciences of USA.
In 1956, Prof. Marcus presented his electron-transfer reactions, "Marcus Theory". Marcus theory was applied in inorganic chemistry, organic chemistry, physical and life sciences fields, processing a large number of electronic transfer systems to accurately predict the number of electron transfer reaction mechanism.
Prof. Marcus received his Ph.D. degree in chemistry from McGill University, Montreal, Canada. He once worked at the Polytechnic Institute of Brooklyn, New York, USA. In 1964, he joined the faculty of the University of Illinois and left in 1978 for the California Institute of Technology.