C. C. Chan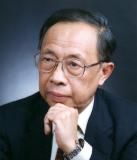 C. C. Chan
Prof. C. C. Chan is a member of Chinese Academy of Engineering, fellow of the Royal Academy of Engineering U.K., member of Ukrainian Academy of Engineering Sciences and honorary fellow of Hungarian Academy of Engineering.
Prof. Chan graduated from the Department of Electrical Engineering at Beijing Institute of Mining in 1957 and obtained his master degree from Tsinghua University in 1959, and obtained his Ph.D. degree from University of Hong Kong in 1981. In Prof. Chan was also awarded honorary doctorate by the University of Odessa Ukraine and by the University of Britain Krumlov Castle in 1993 and 2008 respectively. He was a professor and former Director of the Department of Electrical and Electronic Engineering of the University of Hong Kong, founding Director of International Electric Vehicle Research Center, Director of International Advanced Study Institute, founder and chairman of World Electric Vehicle Association, and chairman of the Electric Vehicle Association of Asia-Pacific.
He was awarded Toastmasters Medal by the Institution of Electrical Engineers (IEE) in 2000 and made presentation on electric vehicle worldwide. He was awarded a number of awards such as "Asia's Best Technology Pioneers" by Asiaweek in 2001, "Father of Asian Electric Vehicles" by Magazine Global View in 2003, "Pitamaha (Grandfather) of Electric Vehicle Technology" by India government in 2006, "Environmental Excellence in Transportation Award" by Society of Automotive Engineers (SAE) in 2007, and "China Auto Industry Luminaries" in 2008. Prof. Chan is a recipient of Gold Medal of Hong Kong Institution of Engineers in 2010, World Federation of Engineering (WFEO) Medal of Engineering Excellence in 2013, and UK Royal Academy of Engineering Prince Philip Medal in 2014.
Prof. Chan is acting as an honorary visiting professor at many well-known domestic and foreign universities, senior adviser for governments, and consultant or independent director for renowned companies. He is IEEE Fellow, senior IET Fellow, and former president of the Hong Kong Institution of Engineers. Prof. Chan has more than fifty years of teaching and research experience and proposes engineering philosophy, engineering and education innovation, which laid the foundation of modern electric vehicles theory and electric vehicles electric drive theory. Prof. Chan authored more than 300 papers, 11 monographs and holds 10 patents. He is the tenth session of the CPPCC national committee and the consultant of All-China Federation of Returned Overseas Chinese.