The Delegation Lead by Mr. Wang Zhigang, Secretary of the Party Committee and Vice Minister of the Ministry of Science and Technology Conducts Field Research at the National Institute of Clean-and-Low-Carbon Energy ("NICE")
2017-03-07
On March 7, Mr. Wang Zhigang, Secretary of Party Committee and Vice Minister of the Ministry of Science and Technology and Director of Construction Office of Beijing Science and Technology Innovation Center, Ms. Yan Aoshuang, Deputy Director of Standing Committee of Beijing Municipal Peoples Congress and Sui Zhenjiang, Vice Mayor of Beijing cooperated and made an investigation at the NICE.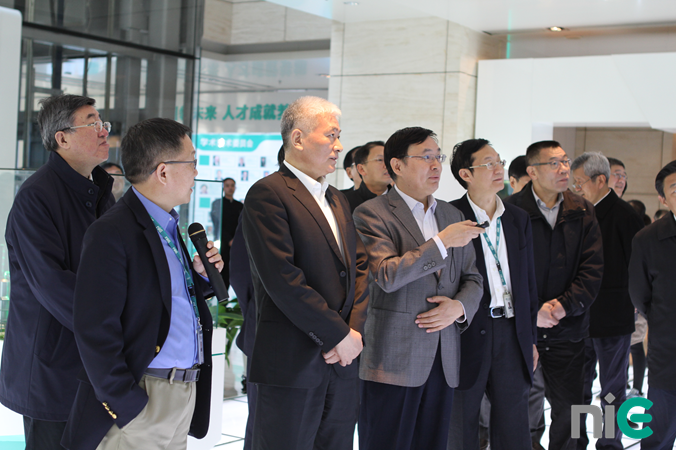 Mr. Wang Zhigang carefully listened to NICE's overall introduction conducted by the organization's director.
He then visited the display area of members of the academic technical committee and achievements, with this visit he got to learn about the R&D progress and scientific achievements in the technical platforms. They included aspects such as clean coal conversion and utilization, catalytic technology, water treatment, coal-based functional materials, hydrogen energy and its applications, solar energy and advanced exploring technology.
Mr. Wang Zhigang affirmed the achievements made by NICE in technical innovation.
In particular, he closely paid attention to and learnt the methods including coal-to-liquid, coal-to-olefin, methanol to olefins catalyst, coal-based material and thin-film solar cells.
He hopes that NICE continues to make complete use of the existing resources, actively cooperate with the development strategy of Shenhua Group, while prioritizing technical innovation. He also hopes they can intensify the research and development, not only to realize clean utilization of resources, but also to impact the economy.
Zhang Yuzhuo said, Shenhua Group will continue to conduct its work in a high manner, and make larger contributions towards promoting the capital's economic and social development and building itself into the world's top-class clean energy supplier.
Relevant leaders from the Ministry of Science and Technology, the State-owned Assets Supervision and Administration Commission of the State Council, Beijing Municipal Government, Construction Office of Beijing Science and Technology Innovation Center, Changping District Government, Group company, Future Technology City Management Committee and NICE also joined the investigation.